COVID-19 : we continue to deliver your orders and our customer care is available as usual.
SIMPLE!
our videos will help you programming
FAAC

GARAGE DOOR REMOTE CONTROL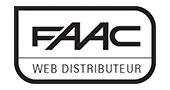 0
products selected - FAAC
FAAC Remote Control : Find the right remote control for your gate or garage operator in a few clicks with Remote Control Express. See our selection of
remote controls for the fairest price. Order from Friday, April 3, 2020!
-54%

-63%

-59%

-50%

-59%

-60%


-53%

-50%



-50%

-59%




-59%






-54%

-59%
-54%









-59%


-59%

-59%

-54%

-50%

-59%


-62%

-59%



Read more about FAAC Garage door remote controls and FAAC gate remote controls
The company FAAC was founded in 1965. It is specialized as a market leader in the field of automation solutions in the home sector. Whether in the sector for buildings, industry or multi-family properties, FAAC offers reliable products, innovation and efficiency.
Access control for vehicles and pedestrians is the specialty of the company. You make the right choice when you opt for a remote control for FAAC gates or FAAC remotes for garage doors. If you are looking for a specific product, you are in the right place. With remotecontrol-express, you can easily find the garage door fob from FAAC that you need. This can be the remote Faac XT2 868 SLH, the remote Faac XT4 868 SLH, the remote Faac 433DS-2, the Faac XT2 433 SL or the remote Faac XT2 868 SLH BLACK, the TML4-433-SLH.
A few clicks are enough to buy the right remote control for garage doors or gates from FAAC. Whether you are private or commercial, we will help you.