COVID-19 : we continue to deliver your orders and our customer care is available as usual.
SIMPLE!
our videos will help you programming
ECOSTAR

GARAGE DOOR REMOTE CONTROL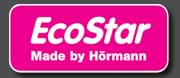 0
products selected - ECOSTAR
ECOSTAR Remote Control : Find the right remote control for your gate or garage operator in a few clicks with Remote Control Express. See our selection of
remote controls for the fairest price. Order from Monday, April 6, 2020!
-44%

-61%



Read more about ECOSTAR Garage door remote controls and ECOSTAR gate remote controls
ECOSTAR is a trademark of the HÖRMANN group, which is designed for sales in hardware stores. The most common model of remote controls is the ECOSTAR RSE2, very easy to program, it will be replaced by the remote RSC2.
Be sure to order the right model for your original remote control.
Remote control for garage Ecostar® engines. Remote control Ecostar® 40 mhz - 2, 40 mhz -. 1