COVID-19 : we continue to deliver your orders and our customer care is available as usual.
SIMPLE!
our videos will help you programming
SOMMER

GARAGE DOOR REMOTE CONTROL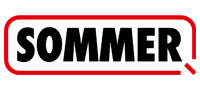 0
products selected - SOMMER
SOMMER Remote Control : Find the right remote control for your gate or garage operator in a few clicks with Remote Control Express. See our selection of
remote controls for the fairest price. Order from Monday, April 6, 2020!
-68%


-34%













-68%

Read more about SOMMER Garage door remote controls and SOMMER gate remote controls
SOMMER is a German company, which offers everything around the garage door and gate engines. With a global network, the company is well-known throughout the industry. The brand has received the quality label "Innovative through Research" 2016, as Sommer always strives to invest a lot in the development of new products.
By choosing a remote controls for SOMMER garage doors or gates, you receive quality products. Whether the remote Sommer 4020 TX03-868-4, the remote Sommer 4026 TX03-868-2 or via the remote Sommer 4050 or the remote Sommer 4031: you have the possibility to buy the suitable remote Sommer for garage doors.
Remotecontrol-Express is the right website for the online purchase for SOMMER remote controls. Make an order with us now and we will send it where you want.