COVID-19 : we continue to deliver your orders and our customer care is available as usual.
SIMPLE!
our videos will help you programming
DOITRAND

GARAGE DOOR REMOTE CONTROL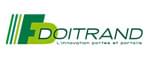 0
products selected - DOITRAND
DOITRAND Remote Control : Find the right remote control for your gate or garage operator in a few clicks with Remote Control Express. See our selection of
remote controls for the fairest price. Order from Friday, April 3, 2020!


-54%


-40%

Read more about DOITRAND Garage door remote controls and DOITRAND gate remote controls
The manufacturer for automated doors DOITRAND is a market leader in this sector. Established in 1975, the French company DOITRAND has a rich and passionate history. Present on the market for automation since 1980, the company DOITRAND produces efficient and secure solutions for individuals and professionals. It also offers high-quality products, including the DOITRAND remote controls for garage doors or gates.
In order to find the right remote control model for DOITRAND garage doors or gate, you are in the right place with us. We have dozens of references. Among these, you will find, for example, the remote DOITRAND TS2DE.
By choosing our webshop remotecontrol-express, you will make your life easier. The right DOITRAND remote control for garage doors or gate is very easy to find. The delivery is quick and easy.